Whether you trade Stocks, FOREX, Futures or Options...

... I want to give you my acclaimed ebook, "How To Design and Construct A Successful Trading Plan"... Free!
Tired of missing trades, chasing trades and, worse yet, making 'revenge trades'?
After helping thousands of traders over the last 11 years to be more Disciplined in their trading, it's CLEAR that your First Giant Step to consistent, winning trading is having a SOLID Trading Plan...
and ALL the steps to do so ARE covered in my book, which is now YOURS FREE for a few days (and I'm not sure when you're reading this)...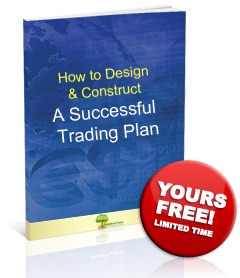 "I now have a roadmap that has and will continue to guide and help me. Everyday I look at my trading plan before I start the day and the and it has increase my confidence 100 fold. Thanks Norman." - Bob S., Compton, California
"Because of your book, my system is now more refined and defined which allows me to trust and adhere to it, and the daily review has made me confront myself and learn from both the profitable and unprofitable. I find myself saying 'you didn't follow your system and look what happened'. Overall, I have learned that I cannot trade successfully without a system and mental and emotional discipline." - Paul M., Dallas, Texas
Here's the complete Table of Contents, so that you know, exactly, the lineup of information that will get you where you want to go... straight to a winning trading plan...
Table of Contents
Chapter 1: Introduction 4
How to define your trading "destination" 5
What is a Successful Trader? 6
Chapter 2: The Strategic Philosophy of Trading 8
Identifying High Probability Trades 9
Risk-Reward 10
The Trading System 10
Chapter 3: Developing your Personal Profile 12
Personal Goals 13
Trading capital and financial objectives 15
Establishing your risk profile 17
Personal Risk Profile questionnaire 18
Identifying your Strengths and Weaknesses 19
Attitude 20
Imagining your worst trading nightmare 20
Writing out your trading premise 21
Example trading premise…21
Chapter 4: Developing an Effective Trading Strategy 22
Full or part time trading? 22
Round-the-clock trading 23
Trading Style 23
Example of a Position Trade 22
Example of a Day Trade 23
Example of Scalping 23
Example of Swing Trading 24
Chapter 5: Trading System and Trading Rules 26
Fundamental Analysis 27
The Balance Sheet…27
The current ratio 28
The Operating Statement 29
Price-Earnings ratio (P/E) 29
How to estimate the future value of stock shares using P/E Multiple 29
Return on Investment (ROI) or Return on Equity (ROE) 30
Quarterly and Annual Reports 30
Fundamentals for other types of investment 31
Technical Analysis 31
Charting 31
Moving Averages 32
Simple moving average (SMA) 32
Trend Identification/Confirmation 34
Support and Resistance Levels 35
Moving Average Convergence Divergence – MACD 35
On Balance Volume 36
Bollinger Bands 36
Relative Strength Index 37
Divergence 37
Selection Filters 38
Sample Trade Selection 39
The Importance of Paper Trading…41
Trading System, Trading Rules and the Trading Plan 42
Example of Trading Rules 43
Chapter 6: Establishing a Trading Schedule 45
U.S. National Exchanges 45
Regional U.S. Exchanges 46
Canada 46
Europe 46
U.K. 47
Japan 47
Chapter 7: Setting up a Trading Journal 49
The Trading Journal-your best friend 50
Key Questions to ask yourself 50
When to make Journal entries 51
Example of a Trading Journal 52
Chapter 8: Testing your Trading System 53
Pros and Cons of Paper Trading 54
Chapter 9: The Emotional Aspects of Trading 55
Holistic Trading 56
Characteristics of a Successful Trader 58
Chapter 10: The Power of Objectivity 62
Give and receive 64
Chapter 11: Putting it all Together-a Sample Trading Plan 65
In Closing 71
Why am I just GIVING YOU my valuable book free?
The Answer is simple...I'd like to impress you with the quality of information in my book, so that you'll be more apt to purchase one of my paid products on trading discipline in the future.
So, just place you first name and email address in the boxes below. Then click the "Free Instant Access" button and your on your way to FINALLY having a SOLID, TRUSTABLE Trading Plan...
Sincerely,
Norman Hallett
CEO, The Disciplined Trader Institute
PS: I know it may still sound crazy that I'm just giving this book away. But YOU'D be crazy not to take me up on grabbing it. The book is absolutely FREE and there is no obligation to buy anything, ever. So why not go back.. fill in your name and email address.. and click the 'Free Instant Access" button?

We take your privacy very seriously. You can read our entire
privacy policy
here.
Copyright © 2011 The Institute for Disciplined Trading. All Rights Reserved